Submitted by Melanie on Tue, 09/20/2022 - 09:31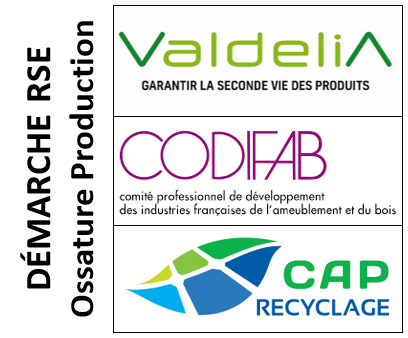 At Ossature Production, we are more and more involved in an eco-friendly approach and we are focusing on waste recycling and treatment.
VALDELIA MEMBER SINCE 2013 : a removable container is installed inside the company all year long in order to recycle furniture (registration number pursuant to section L.541-10 of « Code de l'environnement » : FR014163_10BMQ).
CODIFAB MEMBER (professional committee for the development of French furniture and wood industries) : an organization that deals with collective actions for the development of the professional sectors of wood and furniture industry.
CAP RECYCLAGE CUSTOMER : rental of a wooden container and DIB container (non hazardous industrial waste) installed inside the company.
You can find our entire CSR approach here.